Trip Advisor, the world's largest travel site, named Marco Island as the third best island in America this year! Wow! This is HUGE! Ten Islands were listed on March 26th, 2013 and reported by Fox News.
Marco was the first of the five Florida islands listed. They mentioned that Marco Island is what every vacationer hopes for...white sandy beaches, sparkling seas with the Everglades and 10,000 Islands in their backyard. 1 Marco was also featured by CNN Travel in April, 2013 as being one of the "10 places that can change your child's life!" 2 Keith Bellows, Editor in Chief of National Geographic's Traveler magazine, writes about Marco Island and the spectacular nature and wildlife that surround our area.
Mr. Bellows recently visited Marco Island to sign copies of his book at our own "Sunshine Booksellers" book store. Keith Bellows' new book "100 Places That Can Change Your Child's Life - from your backyard to the ends of the earth" specifically mentions Marco Island, and the Dolphin Explorer cruise. World renowned Bellows, states that you can introduce your child to marine biology by searching for dolphins. In his book he says "there is a kid's way of seeing the world, parents need to get out of the way, and stop marching them through the experience (like action packed amusement parks.) When you get them to slow down and experience a place from their perspective, it's magic."
Our local Convention and Visitors' bureau P.R. Director said that this recognition "is incredibly significant and it's huge in terms of recognition and prestige because it's published by National Geographic Books, the pinnacle of travel publications."
I have had the opportunity to live and sell Real Estate here in paradise for the past thirty years and I am still, on a daily basis, AWESTRUCK with the magic of Marco!
Debbie and Stephen Barker have published The Marco Review magazine for the past twenty years and go to great lengths to make sure our visitors are thoroughly informed of everything to do. Make sure you nature buffs, explorers, water sport enthusiasts and fisherman read their new feature "Exploring Marco and the Everglades". It has been an honor and privilege to be part of The Marco Review's journey over the last twenty years. Happy Anniversary Barker family for a job well done - your magazine is the "golden standard" publication for tourists and Islanders alike. Congratulations! Thank you Debbie and Stephen for your dedication and service.
Marco Island is a "one of a kind" Island Paradise. Some people have called it the Hawaii of the east. I have called it 'home" for the past thirty years and I am still in awe of it. And yes, I still get goose bumps when I come back over that magical bridge after being away for a while. And yes, I still have epiphanies when I experience the wonders of our area. And yes, I still pinch myself when I experience those unbelievable, spectacular sunrises and sunsets or when I see the dolphins and manatees playing in our backyards. These daily occurrences that too many of us here, unfortunately, take for granted. Not me! I am very thankful for having the privilege and opportunity of living and working here for the past three decades. My famous one liner is "It's great to be alive and on Marco Island!" I recently re-read "The Last Paradise, the building of modern Marco" by Douglas Waitley, a magnificent book that is highly recommended! It can be purchased at either Sunshine Booksellers stores, The Marco Eagle, or my main office. This book is mandatory reading for all my sales agents and a must read if you are purchasing a property here.
The Tide Has Changed
Our local real estate market is PERCOLATING!! ALL the movers and shakers are busy and properties in all categories are selling again. THE TIDE HAS DEFINITELY turned and our inventory is diminishing. In 2012 total unit lot sales increased by 72% over 2011. Total unit condo sales increased by 22% and total unit home sales increased by 12%.
Our quarterly statistics are in and all indicators point toward a MAJOR REBOUND this year. Buyers have been extremely motivated in order to capitalize on low interest rates and I continue to see the demand increasing and continue referring to the same Boomer statistic that there are 78 million Boomers with 8,000 turning 60 every day. The Boomers are arriving and we are entering a period where there will be a low supply of properties to purchase in Marco, while at the same time the demand is rising.
This scenario always means price increases. I strongly recommended two years ago in my article titled "Dirty Gold," to buy home sites (vacant lots). My advice was correct and the lot market is still hot, with over 184 parcels sold last year – a 72% increase in total lots sold over 2011. At that pace, a lot is sold every other day on Marco.
Over the last 18 months, we have experienced an over-correction in certain areas of our water lots. This happened because our home sites depreciated drastically over the last seven years from their peak in 2005. When these lots started selling again, some categories made major jumps.
National Housing Analysts have said that prices are rising at their fastest pace in over six years and are forecasting a seven to nine percent rise in prices this year. Marco has already experienced those numbers and much more in certain categories. Our area is beginning to say…GOODBYE TO THE GOOD BUYS! Marco sells itself. I will help you make the wisest decision based on facts, so you can capitalize on some of these present and future values. There will be some opportunities that will bring some quick profit, but please remember that Real Estate is a long term investment and the flip/flop days of '03, '04 and '05 are history.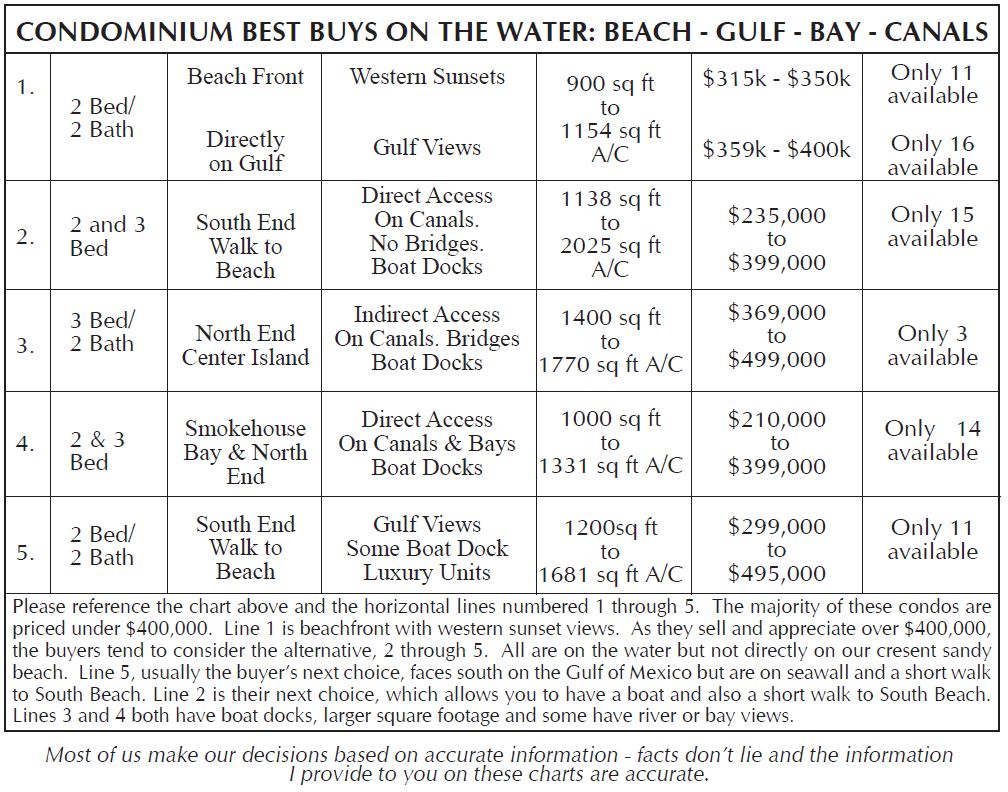 Attention Europeans and Foreign Nationals
If you are visiting us from abroad, there are misconceptions many people have about Realtors and how Real Estate works here, since it is quite different from Europe and other areas. If you are interested in purchasing a condo, home, lot or business you should work with only one realtor. Why? Because we all work together here and have access to all available properties through our Multiple Listing Service. You don't have to call each ad you see in a paper or magazine. Realtors don't sell only properties listed by themselves. Any realtor can sell you virtually any condo, home, townhouse, villa, cottage, vacant lot, business or commercial property. So call the Realtor you have chosen with ads in your hand and they will do all the research. The seller pays the Realtor's commission. When you work with only one realtor, it is a time saver because it avoids being shown the same property by more than one agent. Your window of opportunity for the best buys in all property categories is shrinking rapidly. Marco property is selling!
This Island is having a remarkable recovery. The consumer confidence for Real Estate purchases on Marco is consistently very positive. Many believe, the only way for our local Real Estate market to go...is up! Prices will never again be this low. We are a preferred investment opportunity. Marco is your safe haven for your hard earned dollars. Wise investors are diversifying their portfolios and entering Blue Chip real estate markets, like Marco. Don't sit on the sidelines and pass up on this golden opportunity. If you plan on making the Marco area your future home and lifestyle, now is the time. There is an opportunity for everybody in all price ranges and categories.
Call Joe at 239.592.3000 or stop by our main office at 207 N Collier Boulevard, just one block north of Residents' Beach and San Marco Road. We are on the corner of Saturn Court and North Collier Boulevard. Ask for Joe Charde, aka the Guru. My 30 years experience selling Marco exclusively is your best investment.
1 3/26/2013 - FoxNews.com
2 4/3/2013 CNN Travel - Katia Hetter