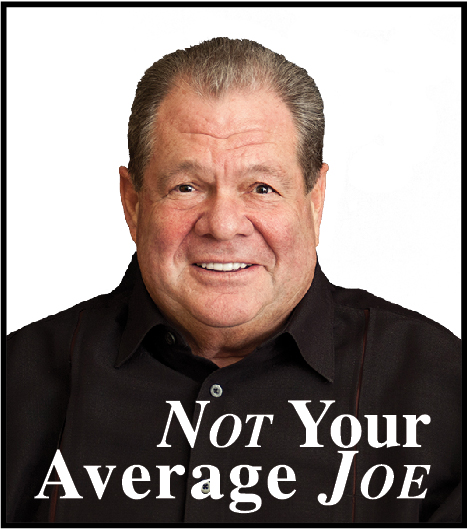 The median closed price of real estate sold in our area has gone up 60% in the last four years and our inventory is down by over 50%. How does this happen? The most recent great recession and the real estate bubble has created these dramatic swings. The price increases don't make sense to many buyers but they are justified and warranted. We were severely undervalued in several market categories and sometimes certain complexes or market segments jump up substantially in price by ten thousand dollar increments: $10k-$20k-$30k-$40k-$50k. These jumps are called market corrections. When the supply is down and the demand is very high, market corrections occur. The reality is that we are still underpriced in several markets compared to our 2006 peaks. The recovery is almost complete and our markets are stabilizing.
Improve or Lose
Modern Marco Island celebrated its 50th birthday this January. The homes and condos that were built in the first 25 years (1965-1990) are considered by many to be "dated". These properties are being upgraded with new flooring, appliances, furniture, granite, bathrooms, crown molding, newer lanais, pool areas and landscaping. Many of these owners need to renovate and modernize their property in order to capture these very selective buyers that are expecting all of the bells and whistles. As our resale supply of properties diminish, these "Early Floridian", unimproved properties will be left behind.
We are beginning to see a considerable amount of older homes bulldozed, since the value of the land underneath these waterfront homes is more valuable than the structure that is on it. This is happening more frequently in our direct access waterfront neighborhoods. Most of the older condominium associations have already gone through and paid for their major renovations and upgrades in their common areas such as: new roofs, landscaping, driveways, painting, lobbies and extra amenities. If you are an owner or seller of one of these types of properties, take note: The older units will stagnate unless improved.
What's Up?
Marco Island's overall real estate market is stabilizing with fewer short sales and foreclosures. Our metropolitan areas of Marco and Naples are expected to lead the state in terms of gross metropolitan product growth in 2015, reported by the Florida Tax Watch. Thousands of jobs are being generated by the booming construction industry with 8.7% projected growth. According to the report, our area has become very business friendly with a 3.7% projected growth for professional and business services. John Tuccillo, chief economist for the Florida Association of Realtors, has said, "...that rapidly disappearing inventory in all categories are forcing buyers to move quickly." We are actually experiencing multiple offers on competitively priced properties. There is a continuous influx of cash buyers (60%-70%). Prices continue to increase because of an imbalance of supply and demand. Demand in certain market segments is so high that it dwarfs supply. Most experts agree that we are in a solid "Seller's Market".
According to a recent economic report, most analysts think the economy is finally emerging from fi ve plus years of stop-and-start expansion. Projections for 2015 state, that it will be the fi rst full year of 3% growth since 2005. The U.S. growth is outpacing most other big economies like, China, Japan, Europe and Brazil. Much of the U.S. economy's growth is being generated by corporate profi ts, averaging over 10% for each of the last four years. The stock market has strengthened because of these corporate profits which benefi t affl uent Americans. These people are spending their profi ts on "rock solid real estate" in resort areas like ours.
The Word is Out
The Naples Daily News and NABOR (Naples Area Board of Realtors) reports on, "The rapidly appreciating luxury home market in Naples". The median closed price for single family homes in Naples in the $2 million and above price category increased 50% month over month from $2,600,000 in 11/13 to $3,900,000 in 11/14. These dramatic price increases have motivated prospective Naples buyers to consider the luxury estate property on Marco Island. Astute boomer buyers are discovering where the real values are, Marco Island!
Our Local Market
The three basic real estate resale markets on Marco Island are condominiums, homes and vacant land. During recoveries in our area, the condominium sales lead the way. Beach front (BE) condos are followed by Gulf front, bay front, canal and inland condos respectively. When we analyze the various single family home market appreciations, the water direct (WD) access homes always lead the way followed by the water in-direct (WI) homes and then the inland (IN) homes. The vacant lot appreciation follows the same sequence as the home market. The following chart will show beginning price points and availability of resale properties on Marco Island today in 2015.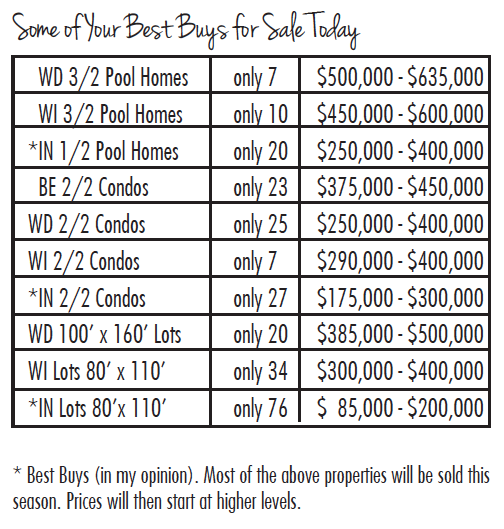 The Marco Miracle
If you are looking for a place to put your money and watch it appreciate with the least amount of hassle, you should buy one of our vacant lots. The land on Marco is our last limited commodity. There will never be another Marco Island. I have always said I would love to be the person who owns the last vacant waterfront lot on Marco. Of our three types of property to buy, vacant land only needs landscape maintenance versus the higher upkeep of a home or condo. Or if the land is on a canal, the seawall needs to be maintained. If you can hold on to your dirt for 3-5-10 years, your return will be astronomical. Real estate is a long term investment, so why not plant that inheritance or that extra cash into some dirt on Marco Island and watch it grow. Your family and heirs will thank you for years to come.
Booming Growth
The population growth in our surrounding areas is projected to explode. Collier County estimates an additional 20,000 people will move into the 951 corridor (North and South Collier Boulevard) over the next 10 years. Located at the intersection of Collier Boulevard and U.S. 41, the County has already started the process of widening the intersection and paving the way for a future overpass to accommodate this projected increase. With the growing population, new merchants and restaurants are moving into the area, Race Trac, Outback Steakhouse, Culver's, BurgerFi, Fresh Market, Chase Bank, and Dunkin Donuts, just to name a few. The developers of the new shopping Center called Tamiami Crossing hopes to start construction in March/April 2015 at the southeastern corner of U.S. 41 and Collier Boulevard (951) - next to Circle K and Super Wal-Mart. Six large stores in almost 120,000 sq. ft. of retail space are planned to include: Stein Mart, Ulta Beauty, Pet Smart, Ross Discount Clothing, Marshalls and a Michaels Arts & Crafts store. Four additional (one acre) out parcels are also planned.
In the Beginning they called it, America's Greatest Real Estate Story
Where were you 50 years ago on January 31st, 1965? The word got out when 25,000 people flocked to Marco Island for its grand opening. Word of mouth, the press, and Deltona's franchise offices got the word out about Marco Island and the sales exploded. The Word is Out Again, Trip Advisor: Marco Island #1 Marco Island was named the #1 island in the United States in 2014 by the world's largest travel site, Trip Advisor. The site calls Marco Island "the Jewel of Florida's Ten Thousand Islands" and also ranked Marco Island #4 in the entire world. These ratings are votes from our tourists who have visited our "diamond" in the Everglades over the past few years. This has given our Island worldwide attention and fame. I always knew that we were number 1 and I have been writing about the splendors of our jewel for over 20 years. Marco Island's fame and stellar reputation is helping fuel our current local real estate markets.
Fast Forward to Present Day 2015
Recently, our local author, Michael Coleman, released a compelling 110 page editorial and photographic narrative called "Marco Island, Florida's Gulf Playground". This new book chronicles the transformation of Marco Island from an alligator swamp to America's No. 1 Island travel destination. "Marco Island, Florida's Gulf Playground" retails for $25 and will be available for purchase via the book's website www.MarcoIslandBook.com and in select retail locations. I hope you are seeing this picture, Marco Island is rapidly approaching build-out. We are on the threshold of greatness. Your window of opportunity for the "best buys"in all property categories is shrinking fast. The Island is having a remarkable comeback and the consumer confi dence for Real estate purchases in our area is consistently growing. Don't sit on the sidelines and pass up on this golden opportunity. If you plan on making our area your future home and lifestyle, now is the time!
With my 32 years of local real estate experience, I will help you make the wisest decision based on facts so that you can capitalize on these present and future values. Just like you have one doctor, one dentist, one accountant, and one lawyer, you also only need one realtor. We are specialist in Marco Island real estate and its surrounding communities. Feel free to call or text me any time on my cell phone (239) 592-3000.
What Joe's Customers Say:
"Joe is a trustworthy, kindhearted man. He recently helped us close on our second home in Fiddlers Creek. He is so well connected that whatever kind of help I needed, he had ready names of trustworthy people we could hire! Though "unofficial" "Joe's List" blows "Angie's List" right out of the waters of the Gulf of Mexico!" - Yong & Elisa Chung, Grand Blanc, Michigan