Spring has arrived!
The colorful trees and flowers are blooming. We are hearing more birds and less car horns. Many merchants have said that this has been "the best season ever!" The Realtors (600+) have reported record breaking sales. Our real estate inventories are dwindling in all categories. Supply and demand is taking its course and pushing prices higher. The short sales and foreclosures are disappearing and our local real estate markets are stabilizing.
As we saw in 2014, our spring and summer buyers were very active. More and more vacationers are discovering how pleasant our island lifestyle is in the off season or summer months. It's really not too hot or humid here and there are always nice Gulf breezes. During the summers of 2013 and 2014 we experienced an influx of eastern seaboard vacationers (buyers) who suffered the devastation of Hurricane Sandy in 2012. They were heard saying that it was much easier to just jump on JetBlue or Spirit Airlines and come to Marco Island with: no traffic, no honking horns, no congestion, no road rage, no crime, no pollution, empty beaches, no waits at restaurants, friendly people, and weather that is almost guaranteed!
What Bubble?
It is no secret that our local real estate markets have recently experienced dramatic and almost unrealistic increases, rebounding from the Great Recession. These extraordinary swings, have some so-called experts predicting another bust or bubble. George Percel, managing broker of Marco's John R. Wood's real estate offi ce says it best. In his commentary in response to a local financial advisor's negative real estate analysis George states that "the financial expert's perspective of our local real estate market is uninformed and misleading." It is another attempt to scare real estate buyers to move to the exhilaration of the gambling den of the stock, bond and hedge fund markets.
From the Realtor's perspective the last boom cycle, which brought about the bust of 2006 was principally engineered by the financial sector and its eagerness, some would say wanton greed, to profit through diabolical schemes designed in New York and Washington. After the dot-com bust, money fled the stock and futures markets to real estate. Traders came to look at real estate as if it was a commodity. Flips were the modus operandi of the day in late 2003 -2005. Money was craving to find a new source of high yield. Thus were born new investment opportunities like REITs, bundled mortgages, and hedge funds. Constantly creating new arrangements to profit from politicians in Washington. These same people fashioned the dot-com disaster.
One big difference in today's real estate market is that it is driven by demand. Seventy-nine percent of the 196 closed sales on Marco Island during the first two months of this year were purchased with cash, not with mortgages. There are no negative amortizing loans, no 100 percent interest only loans, and the loan originators are not paid to approve a loan to anyone who could fog a mirror, as was the case during the last absurd manipulated boom.
George Percel suggests that this financial advisor's misguided view is driven by the fact that many of his customers are now investing in the long-term stability of real estate and not the volatility of the financial markets. Over time, real estate continues to provide a substantially higher rate of return than many Wall Street investments. Welcome back market stability. Today's buyers are people who will be holding and enjoying the properties they purchase. Today's real estate investor is not looking for the get-rich-quick opportunity.
People love our diamond in the everglades, Marco Island. We are no longer the secluded secret Island on the West coast of Florida. In 2014, Marco Island was named the #1 island in the United States by the world's largest travel site, TripAdvisor. The site calls Marco Island "the jewel of Florida's Ten Thousand Islands" and also ranked Marco #4 in the entire world! This has given our Island worldwide attention and fame. The Europeans traditionally keep us very busy during our slower paced summer and we are expecting them to continue buying our desirable real estate in spite of the stronger dollar.
Our Local Market
The three basic real estate resale markets on Marco Island are: condominiums, homes and vacant land. During recoveries in our area, the condominium sales lead the way. Beach front (BE) condos are followed by Gulf front, bay front, canal and inland condos respectively.
When we analyze the various single family home market appreciations, the water direct (WD) access homes always lead the way followed by the water in-direct (WI) homes and then the inland (IN) homes. The vacant lot appreciation follows the same sequence as the home market. The following chart will show beginning price points and availability of resale properties on Marco Island today in 2015.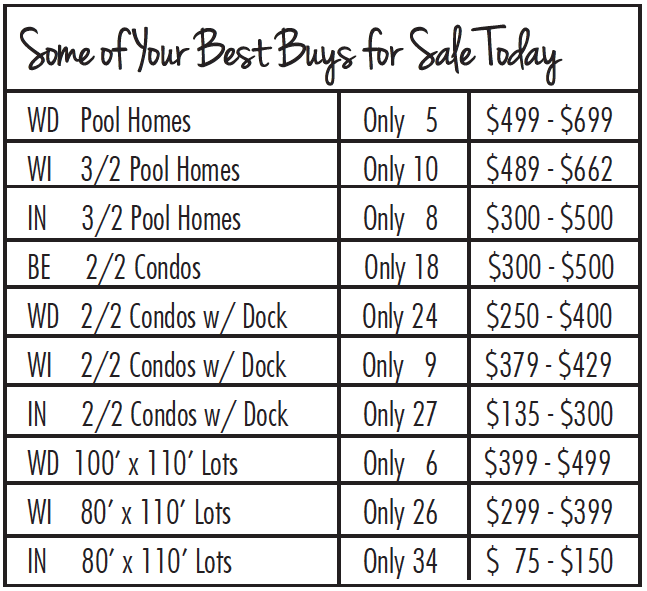 Marco Island is rapidly approaching buildout. We are on the threshold of greatness. Your window of opportunity for the "best buys" in all property categories is shrinking fast. The Island is having a remarkable comeback and the consumer confidence for Real Estate purchases in our area is consistently growing. Don't sit on the sidelines and pass up on this golden opportunity. If you plan on making our area your future home and lifestyle, now is the time!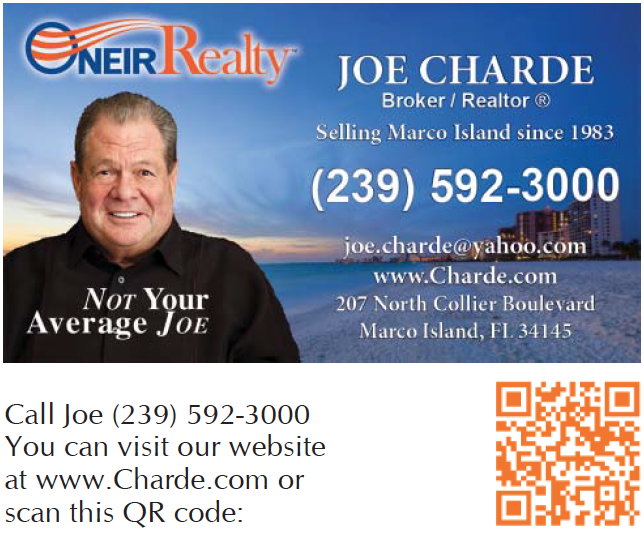 With my 32 years of local real estate experience, I will help you make the wisest decision based on facts so that you can capitalize on these present and future values. Just like you have one doctor, one dentist, one accountant, and one lawyer, you also only need one Realtor. We are specialists in real estate on Marco Island and its surrounding communities. Feel free to call or text me any time on my cell phone (239) 592-3000.